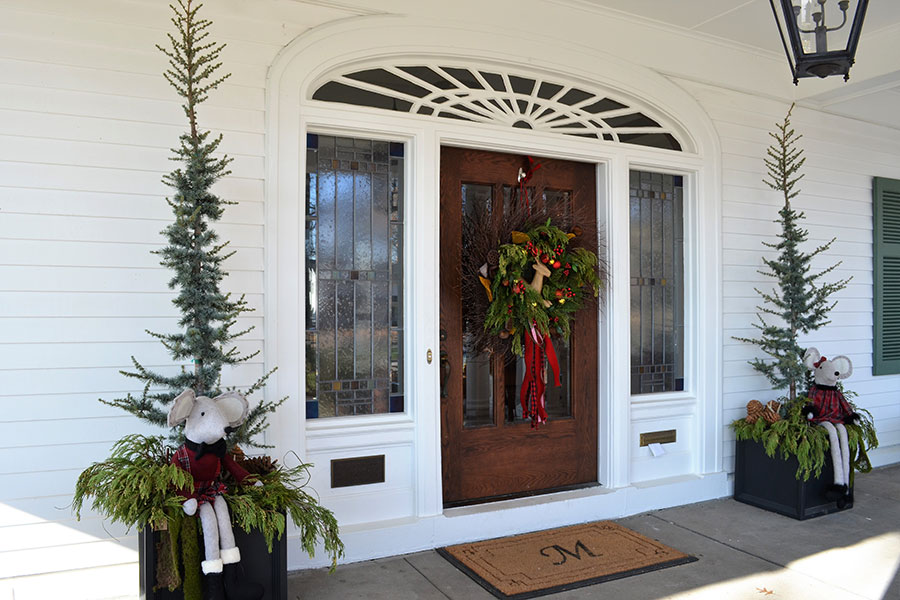 The holidays are fast approaching and with winter on the way, it's time to start discarding your pumpkins and thinking about Christmas decorations. Your porch is the first area of your home that visitors see and as such it provides the perfect palette to create a welcoming and festive Christmas display. If you tend to reach for the same string of Christmas lights and a trusty door wreath every holiday season, consider shaking things up this year. Whether you prefer a sleek modern look or antique and rustic touches, these 50 Christmas porch decorating ideas are sure to inspire you.
There are so many fun ways you can incorporate greenery for Christmas decorations, and this one balances garland and additional shrubbery rather well. If you have the space for it, hang up a good deal of garland around your porch as it sets the scene of the holiday immediately. From there, it flows into the potted plants or trees you can place around the door. Don't be afraid to put some twinkle lights on the trees to help them stand out. A simple wreath can help seal the deal, so to speak, and blend effortlessly with the rest of the greenery.
Oftentimes, the classic holiday color combination of red and green is the perfect choice when it comes to decorating for the season. A scene like this can radiate joy and warmth, giving guests a good indicator of what's to come before they walk inside. Various sized, lit-up Christmas trees are a great frame for your porch. Based on the space you're working with, you can add several of these leading up to the door. Poinsettias are another excellent plant to utilize for your porch décor as it both fits with the red and green theme while working as a classic Christmas staple.
If you're looking to highlight your front entry, patio, balcony, or outdoor space with a beautiful pot or planter, you've come to the right place. Here at Family Tree Nursery, we carry an unmatched assortment of planters that range from hard to find larger sizes to smaller tabletop sizes. Not only do we carry a huge selection of sizes, but we also carry an extensive selection of colors, textures, and materials such as fiber clay, terra cotta, ceramic, plastic, metal, and concrete. Bring in a picture or any questions you might have and let our experts help you select the perfect container for you.