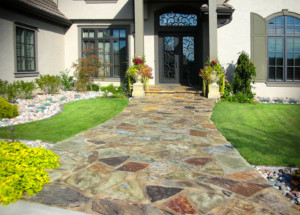 I'm not sure if you're aware, but it is a Seller's Market in Kansas City right now. Houses are selling in hours or days after being listed. And if you've been thinking of trying to sell your house, but want to get the most money out of the property that you can, one simple solution is to look at your landscaping.
Luxury landscaping is extremely popular with property owners in Kansas City who seek to enhance the appearance and feel of their yard while placing some extra value on their properties. High-quality Kansas City landscaping can tack an extra 20% onto your property's value, making it a smart investment opportunity and a great way to attract potential buyers.
Luxury Garden Considerations
This goes beyond the normal weekly lawn care and landscaping services and can give you a landscaped yard that will make your jaw drop.
Luxury Gardening or, as it's sometimes called, Fine Gardening, is a specialized area that can include:
custom hand pruning
fertilizations
specialized plantings
water features
pond care
pottery and garden art purchases
Lots of people take care of their garden landscapes themselves, but certain tasks can be very difficult or even impossible to accomplish if you don't have the guidance of a qualified landscaping company or a group of luxury garden designers.
This can be especially true if the garden is situated over a challenging terrain that makes it hard to get to or work with. Professional Kansas City landscaping companies with experience in conquering the difficulties of certain ground surfaces can completely make over your garden and allow you to just lay back and relax in the sun.