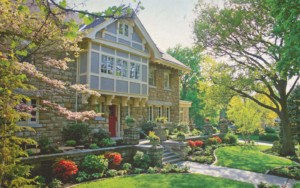 If you haven't ever undertaken a landscaping job before, you may find yourself overwhelmed by the variety of choices available to you. You might be unsure where to even start! Well, the same ideas that direct your house's room layout should carry over to your landscaping layout as well. Listed below are four tips for working with landscaping services in Kansas City for gardening newcomers.
1. Create a list of your desires and requirements.
Do you have children who need a safe play area? Would you like to have a vegetable garden? Would you like a patio area to entertain company? Draw a few rough outlines of your envisioned yard with an eye on where you'd like to set things, which is an immersive activity intended to stimulate your creativity. They don't have to be master plans, only rough sketches. You can use lines or circles as symbols for where you want to put certain things and enjoy experimenting with different ideas without having to invest a lot of energy and time.
2. Have your landscaping company examine the wind and sunlight patterns.
You might want to have a deck on the western side of your home, but it will receive a lot of sunlight in the afternoon, so supper time in the summer could be hot and uncomfortable, and any wind that blows over an area can quickly put out a fire pit. These are typical mistakes that beginners make when first approaching landscape designs on their own. Professional landscaping services in Kansas City will look at how the sun and wind will affect your landscape at various periods of the day or year, which enables them to create solutions to offset any problems.
3. Have an established point of focus and communicate it to your landscaping company.
All decent garden designs have a point or series of points of focus, and this is an important principle to remember for landscaping newbies. Whether it's a statue, a tree, an exotic plant, or a line of bushes, the intention is to attract your attention and then guide it throughout the yard.
4. Consider the size and scale of features.
This is one of the most challenging principles of landscaping for novices, but professional Kansas City lawn and landscaping services can determine the size and scale of all features to help give your landscape a cohesive style. There might be differences in the shapes, sizes, and colors of certain aspects, with taller plants lined alongside any sheds or in the rear of flowerbeds, and trails that guide visitors through the area.
It's good to repeat certain elements like exotic plants, colors, and even shapes, which gives the yard a sense of unity. Still, you don't need these patterns to be too repetitive, so start out with incorporating the occasional component that stands apart from the rest of the area at different points.
By following these four simple steps, you can ensure that you'll end up with a landscaped yard that suits you and your family perfectly!