Happy New Year from By The Blade!
Lindsay and I, along with Ruby, 8, Theodore, 6, and George, 4, hope you and your family had a wonderful holiday season!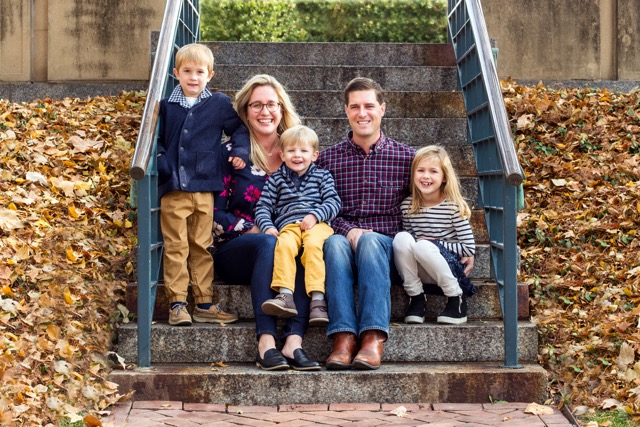 2018 was a year of continued growth for our company. In May, our work was featured for the 8th consecutive year by the 49 th Annual Symphony Designers' Showhouse and the Kansas City Symphony Alliance. In June, we celebrated the first anniversary of outdoor design studio with our annual customer appreciation/open house event. We always enjoy visiting with you! If you haven't had a chance to check out our Parkville studio, we hope you will add that to your spring to-do list – especially when all our flowers, trees & plants are in bloom. Our studio offers a one-stop shop for all outdoor living needs – you can view our designs, feel a variety of stones, countertops and landscaping elements, and even smell the flowers!
Our teams continue to stay busy throughout the winter months. Our lawn maintenance division is providing leaf clean ups, tree trimming (over) and winter fertilization services. We're also custom designing and building outdoor living spaces that provide long-lasting beauty and enjoyment. Considering a hardscape or landscape addition this year? Now is a great time to get started! Know of a friend, family member or colleague looking to do the same? Your referrals are the highest compliments we can receive
and are much appreciated!
We're pleased to have added many great employees to our team this year (over). Please give our office a call at 816.505.0444 if any questions – Jennifer, Tamela and Candi (also new to our team) are in the office
Monday through Friday and are happy to help!
We thank you for your loyalty and your business. It's because of our valued customers and dedicated employees that we're able to stay strongly rooted in Parkville, and have been trusted to provide complete lawn and landscape services for over 20 years throughout Greater Kansas City area. We look forward to continuing to serve you in 2019!
Sincerely,
Patrick Vogt, Owner