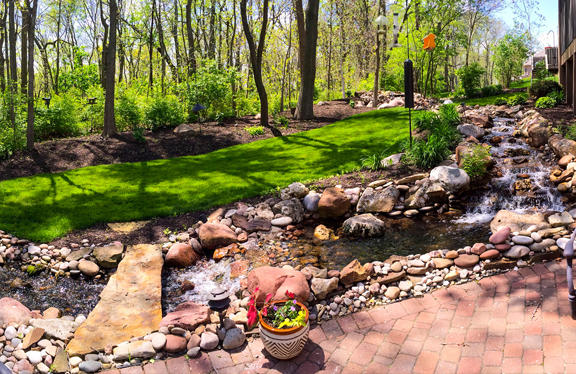 If you think that Kansas City landscaping is just adding a few flowers in your bed around springtime, you are missing the point. Landscaping can serve multiple functions, not just window-dressing. It can create outdoor living spaces. It can help keep erosion from ruining your home. It can even provide lighting in areas to make them safer at night. To dream up a spectacular design for Kansas City (KC) lawn and landscaping, consider some of the tips to expand your landscaping possibilities:
Create Islands of Interest – Hate mowing that lawn? Why not add some islands where your plants and flowers can best be seen from the street? It can minimize lawn care, Kansas City, by having less grass to mow. Add a tree, a bird bath, or even a small fountain too.
Add Stones and Walls – Add boulders or a retaining wall. In areas where the soil may be eroding, retaining walls can serve a dual function of erosion control, privacy screens, and visual delight. Pebbles can be used in place of grass on islands to reduce mowing needs.
Pay Attention to Landscape Lighting – Landscape lighting can light up walkways to lead guests to your doors. It can provide illumination around a pool or other outdoor sitting area. It can help you take advantage of your deck to extend the enjoyment of your lawn and landscaping KC garden even after dusk.
When it comes to landscaping, think beyond plants and you will be able to create magical areas in your garden that serve more than one purpose. They can also help you reduce maintenance chores and provide more visual impact in the garden. Take a look for KC lawn and landscaping professionals in your area to help you get started with the ideal landscaping plan for your next gardening project.