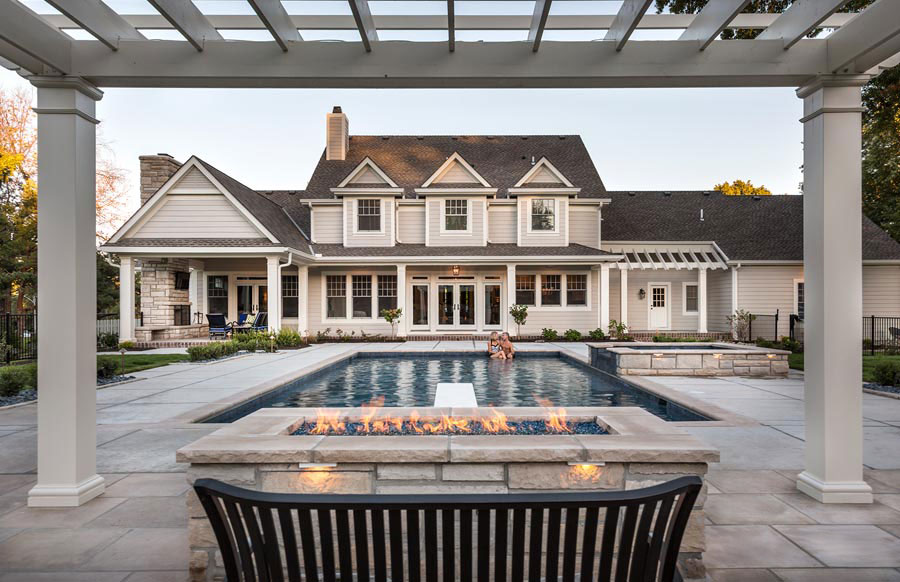 [hr]
Even more so than a backyard or garden, a pool is your home's oasis. Because it's also a significant investment, it's important to choose a quality design that complements your exterior. A pool should never look like an "add on," but should create a special ambience that your entire family can enjoy. The right contractor can build a product that's easy to maintain and lasts for years to come.
"Most people don't think of a landscape company when they consider building a pool," says Patrick Vogt, owner of By The Blade. "That's because most landscapers don't have a pool division in house. But our business model is total exterior management, which means we oversee the design and build of swimming pools as an integrated piece of your landscape."
This means that instead of the few, limited designs available through most companies, By The Blade clients can have custom swimming pools in virtually any size or shape. It also means your pool installation will be overseen by our trusted By The Blade team, rather than a subcontracted company we don't have accountability for.
When investing in a pool, you're ultimately creating a space in your home. So it's important to think holistically about that space and how you want it to feel. Our customers enjoy stone walls, sitting ledges, water jet streams, caves, swim up bars, fire pits, cascading falls, lighting, speakers and pergolas.
"As landscapers, we design everything as one outdoor space" says Vogt.
If you're concerned that swimming pools are difficult to maintain, consult your contractor about the level of technology available to them. By The Blade can install automated covers, Pentair pumps, and even controls you can program and use from your smartphone. Innovations like salt chlorine generators, which transform table salt into chlorine, are the latest advancement in pool sanitization. By The Blade refers to these as "soft water" pools, because the process is similar to that of a water softener. These are excellent for children and will help make your pool family friendly and safe.
A pool should be your signature space, perhaps the most relaxing spot in your home. By The Blade can create that escape for you, with dependable quality and project consistency that will help you relax even before the construction is done.