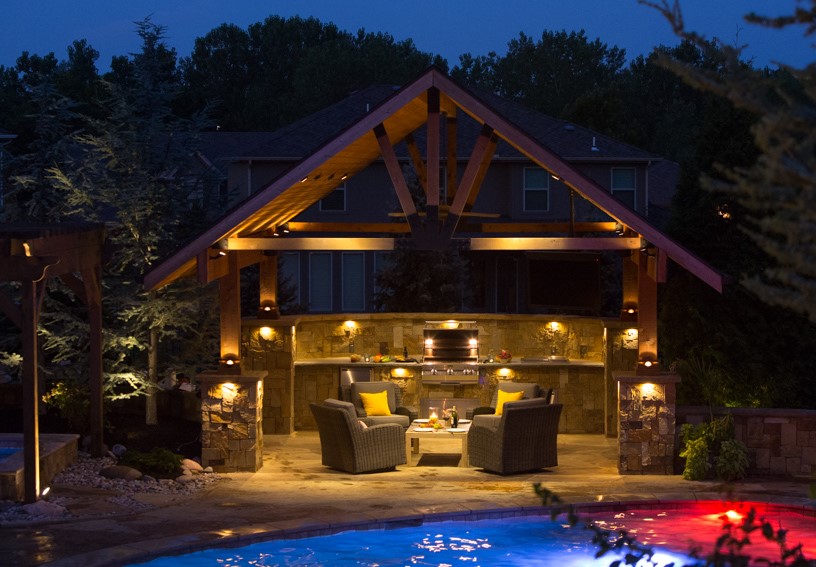 It's literally the difference between night and day when a home is transformed by architectural and landscape lighting! Hardscapes become dreamscapes as the moon rises and the stars begin to dance. By The Blade partners with FX Luminaire to install the latest lighting technology with top-quality Luxor controls. There are 3 GREAT reasons to consider an outdoor lighting system. 
Safety First! "Not only are outdoor lighting systems beautiful, but they can provide another level of safety while at home and away," said Chief Ambassador of Living Patrick Vogt. While at home, path, area, up/down, wall and step lighting illuminate pathways, decks and patios for surefooted navigation. While away, zone and dimmable capabilities easily controlled with a smart phone or tablet allow homeowners to illuminate their property for enhanced security. 
There's No Place Like Home! Advanced outdoor lighting systems provide timeless design and beauty. With a spectrum over 30,000 color possibilities, there's a color scheme for every occasion. State-of-the-art wall wash and spotlights illuminate the home and landscape to create an ambiance like no other. "Our clients are always amazed at the before-and-after difference outdoor lighting can make," said Vogt. 
Curb Appeal! Thinking about selling your home? Energy-efficient landscape lighting can be professionally installed with ease to help make a home market-ready in relatively short period of time. Landscape lighting will enhance the overall look of a home and landscape to create the ultimate WOW factor. 
"We design and install cutting-edge landscape lighting systems," said Vogt. "Contact us today if we can help."