Smart Lighting will Beautify and Boost Security for Your Home or Business
Kansas City Landscape Design
People entertain and spend more time outdoors in the summer and fall, but it's unnerving to gather friends and family together for drinks or a barbecue outside and then stand there in the dark because your lights don't work.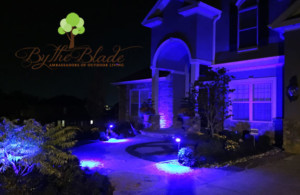 Energy-saving, state-of-the-art outside lighting systems will add a delightful ambiance to any night-time experience or simply beautify your home or business. Smart lighting systems can be controlled remotely from a smart phone or tablet and are great features that help boost the appearance and value of your home.
Lighting your landscaping, pool area, sauna, deck & patio, and other areas makes sense in many ways.
Study after study proves that outdoor lighting deters crime, but you don't have to spend a fortune on a new lighting system and low-energy options are not only available, we encourage them. Long-lasting bulbs and quality fixtures will provide light when you flip the switch and not disappointing darkness.
It's important to remember that well-lit entrances, walkways, and stairs are much safer for people and less likely to be the scene of a stumble and fall. Inadequate lighting causes thousands of people to trip and fall every year and the cost of injuries and lawsuits is extremely high. Every homeowner and business owner or property manager should be aware of "premises liability" which is the responsibility to maintain a safe environment for people.
Commercial properties are often not given priority for outdoor lighting systems, but they should. People who drive or walk by your business even when it's closed can be impressed by the appearance. Security for businesses is an issue as well, since burglars figure most businesses are unoccupied at night. People with evil intentions, however, don't want to be spotted and will likely choose a dark area to carry out their break-ins.
Kansas City Landscape Design         
Outdoor lighting is a part of By the Blade's landscaping service. Electricians with years of outdoor experience conduct all the work and our products are superior in quality and value. We will be happy to take a look at your home or business and design a lighting plan that fits your budget. Call 816-505-0444 to speak with us about brightening up your world today.