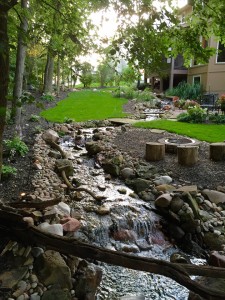 "Wow, this is in a class by itself," said one tour participant. Another commented, "When I die and go to heaven, bring me here."
What happens when you build a stream featuring a series of waterfalls, a couple of small ponds, shrubs, flowers and even three bridges, and run it 100+ feet through a wooded backyard? The result is an incredibly relaxing outdoor environment, which was featured on the 2015 Kansas City Water Garden Society tour.
Several hundred visitors toured dozens of water gardens around the Metro. We were honored to have our work featured on the tour and were especially humbled by the comments from the visitors.
In addition to its natural beauty and relaxing sounds, the stream captures nearly all of the rain runoff from the home and surrounding property. This provides an economical way to replenish the water and also provides environmental benefits to the community.
"We love it," say owners and long-time By The Blade clients Kevin and Judy Koster. "It's like walking into another world. The only downside is that you never want to leave."
Thanks Kevin and Judy, for sharing your backyard escape. We loved creating it for you and appreciate you letting us be your Ambassadors of Outdoor Living.