4 Common Spring Lawn Care Mistakes, According to an Experienced Lawn Care Company in Parkville
It's still February here in the Kansas City area, but before you know it, spring will finally be here. When spring finally arrives, one of the first items you need to make part of your normal routine is lawn care. Once March and April get here, you'll need to get back to mowing regularly, weed eating, and handling all your other lawn & landscaping duties.
It is important that you are doing all of these tasks correctly to keep your lawn and landscaping healthy. However, our team at By The Blade in Parkville is here to warn you of some common landscaping and lawn care mistakes to avoid. As a leading lawn care company in Parkville, we want your lawn, plants, and trees to be strong and healthy this spring, and you can make that happen by avoiding these four costly mistakes.
A broadleaf weed management product is typically included with fertilizers when purchased from home improvement stores. We advise delaying the application of this broadleaf weed control until after the weeds in your lawn become active. Future broadleaf weeds cannot be controlled by applying the fertilizer and weed control mix before the weeds are visible on your grass. Only after the weed has developed can broadleaf weed management for common weeds like dandelions be effective.
Another Common Mistake – Not Maintaining Your Lawnmower
Damage from mowing is frequent and readily preventable. At the beginning of the growing season, we advise getting your lawnmower serviced. When you service your mower, the oil is replaced, the rotor is examined, the engine is tested, and the blades are sharpened.
A clean cut is made off the top of the grass using sharp mower blades. The ends of grass blades can be torn, shredded, and bruised by dull mower blades, which weakens the plant. As one of the top lawn services in Parkville, we know that this kind of damage might serve as a point of entry for disease into the plant. It's also crucial to examine the engine and rotor in order to safeguard your grass. Leaf damage will result from the rotary running too slowly during mowing.
In our service region and across the nation, crabgrass, an annual grassy plant, is a problem in the majority of residential lawns. This weed may be difficult to eradicate once it has established itself in your lawn and tends to thrive in turf that is stressed, particularly thin or bare patches.
As a leading lawn care company in Parkville, By The Blade knows that prevention is more effective than post-emergence control when it comes to crabgrass management. Crabgrass pre-emergent should be used twice in the spring, first in March or April and again four to eight weeks later, according to turf specialists. The soil is protected from the plants after germination begins by the crabgrass pre-emergent sprays.
Mowing Too Short
Fast-growing grass sprouts in the spring and summer. Although it can be very tempting to cut your grass short to reduce the number of times you have to mow weekly, doing so might have a negative effect on the health and aesthetic of your lawn. When mowing the lawn, just 1/3 of the grass plant should be removed at a time.
As one of the top lawn services in Parkville, we know that the ideal grass-mowing height in many regions is between 3 and 3 ½ inches. It can damage the plant if too much of the grass blade is removed at once, which will lower its resistance to other environmental problems, including disease, surface-feeding insects, and even the invasion of broadleaf weeds.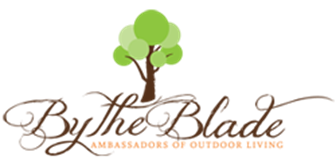 At By The Blade, we are a premier Parkville lawn care company. We offer Total Exterior Management, which is a valet service that covers every aspect of your outdoor space and is widely considered one of the top lawn care services in Parkville.
Contact us today and find out how our professional landscaping services can benefit you!