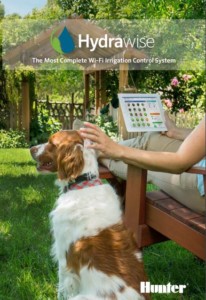 A sprinkler system controller that saves water? YES! By The Blade now exclusively installs Hunter Hydrawise™ irrigation system controllers. Why? Because they are the best, most cost-efficient controllers on the market today.
A healthy, beautiful lawn and garden needs just the right amount of water to thrive. Hydrawise automatically adjusts watering based on highly accurate, internet-sourced local weather data. The system looks at the forecast and past history to ensure that just the right amount of irrigation is applied. This Predictive Watering™ process can provide significant water savings for By The Blade customers.
"What we also love about Hydrawise is the convenience of remote access," said Patrick Vogt, Owner. "It's easy to monitor and manage your irrigation system from anywhere in the world by using your phone, tablet or computer." The reporting feature shows how much water is used, and how much is saved.
Looking to upgrade your sprinkler system controller? We can help you to start saving time and money today!