Our hard-working team at By The Blade didn't miss a beat with the landscaping on this gorgeous Villa Estate in Parkville.  Located in the heart of the city, check out what our crew, led by owner Patrick Vogt, put together for this very satisfied customer.
Some of the beautiful features of our work include the following:
Drainage Solutions
Irrigation System
Bocce Ball
Fire Pit & Seating
Terraced Landscaping
Customized Iron Work
Crushed Granite Driveway and Walkways
Controllable, Dimmable LED Lighting
Drainage Solutions
As one of the best landscape design companies in Parkville, our crews have ensured that water flows away from this beautiful home by providing a premium drainage system to prevent standing water on the property.

High Efficient Irrigation System
During the hottest summer weather, this homeowner will still have the greenest yard in the neighborhood thanks to a top of the line irrigation system installed by our team.
Bocce Ball, Fire Pit and Seating Area
Our crew made sure that this family will have lots of fun during the evenings with this design.  As Parkville's best lawn and landscape company, we make custom designs to fit all activities.  This fire pit and seating will comfortably fit this family as well as some guests, while there is still plenty of room for a regulation Bocce Ball on the luscious green grass nearby.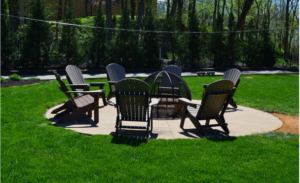 Terraced Landscaping
Under direction by Patrick Vogt, our crews are meticulous when it comes to making your landscaping stand out above the rest.  Our terraced designs give beauty to yards with even the steepest slopes.
Customized Iron Work
Iron railing not only serves as a safety feature when navigating the steps but can add another level of personalization to your home.  When you work with By The Blade we won't leave out any details when it comes to the design of your next landscaping project.
Crushed Granite Driveway and Walkways
You can walk the perimeter of your home with a beautiful sidewalk made of crushed granite, accented with the perfect assortment of rock, shrubs, and various bushes.  By The Blade offers a wide selection for all your landscaping needs.

Controllable, Dimmable LED Lighting
For evening activities this home is equipped with high-tech LED lighting that can be easily adjusted to fit any mood.  This family can enjoy bright lights for a late-night game of Bocce Ball, or dim lights for a quiet night under the stars.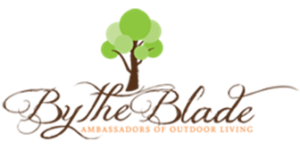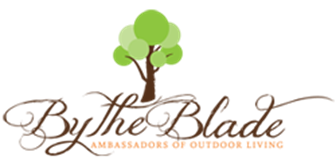 As one of the best landscape and best hardscape design companies in Parkville, we can take on any project to help elevate your home to another level.  Contact us online today for your next project.